Holidays Centerpieces
Atelier floral Suzanne Savard has a selection of beautiful Holidays Centerpieces
perfect for accenting your decor. - Specialising in Montreal and Laval Flower Delivery



CF01 - CD $53
Floral Arrangement

Arrangement with Red gerbera, White rose, Red and white carnations, White chrysanthemum buttons, Christmas themed pot

Free delivery for online order



CF02 - CD $69
Centerpiece


Made with Holiday Greens, white alstros, including candles and golden ornaments

Free delivery for online order



CF03 - CD $72
Floral Arrangement
NOT AVAILABLE

In a Christmas bauble, red mini carnations, white chrysantemum gold ornements and greens

Free delivery for online order



CF04 - CD $59
Centerpiece


Centerpiece made with Holiday Greens, red carnations, including candles and golden ornaments

Free delivery for online order



CF05 - CD $59
Floral Arrangement

In a basket made with Holiday Greens, Red and white carnations and mini carnations, Ceramic Santa Claus, pine cone. (Basket may be different)

Free delivery for online order



CF06 - CD $73
Centerpiece

Red and white roses, White alstros, Baby's breath, Candle, Christmas balls

Free delivery for online order



CF07 - CD $74
Centerpiece

White lilies, White roses, White fudjis, White dendrobium orchids, White alstros, White wax flowers, Candles

Free delivery for online order



CF08 - CD $72
Floral Arrangement
NOT AVAILABLE

In a Christmas bauble, red roses, red mini carnations, White cushion chrysanthemums,Red bauble, Silver ribbon and greens.

Free delivery for online order



CF09 - CD $64
Silk and Dry

Ornament for door or wall

Free delivery for online order



CF10 - CD $79
Centerpiece

Red gerbera, White chrysanthemums, Red carnations, Red roses, Christmas Greenery and décor, pinecones, Candle taper

Free delivery for online order



CF11 - CD $49
Centerpiece

Round centerpiece Red mini carnations and carnations, holiday greens, candle and gold ornaments

Free delivery for online order



CF12 - CD $69
Centerpiece

Red mini carnations Red carnations, White Chrysantemum,Christmas greenery

Free delivery for online order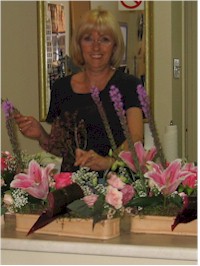 A centerpiece gives that little finishing touch to complete the table you have nicely set for your guests.

Whether it is for a birthday, a gala, a convention, a ball or a wedding, the centerpiece will warm the ambiance and dress the table.

We will create a style for your corporate or family event. You've got a theme? We have the ideas! This is exactly what our designer florists have in mind.

Tell us about your project and we will create something special with first quality flowers and greens that will match the decor of your table.

At Atelier Floral Suzanne Savard we have an extensive experience with conventions, galas, corporate events. You need hundred centerpieces? We will meet your needs! We deliver everywhere in Montreal, south shore, north shore, east and west sides.